wang
barangnya sudah diterima, sesuai waktu pengiriman. thank you
noval dermawan
Manteppp.. sudah tiba ditujuan, makasih om Andrie.. packing nya mantapp, brg 100% Original.. good seller :D
Ade
Satisfied. Great product and service, quick response. Package was received as expected, both time and quality.
Yasinta
jessica simpson Fancy Night nya udah nyampe.. udah pesen untuk yang kedua kalinya.. suka sama wanginya.. sebenernya cepet sih dikirim dari yourbutik, sayang ekpedisi yang dipake tiki,, jadinya lama ...
detail
» lihat testimonial
» isi testimonial
» »

Sisley Eau Du Soir Women EDP 100ml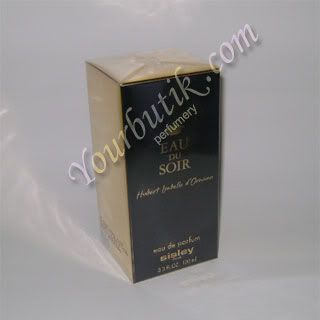 Product - For Women - EDP 100ml (Box + Segel)
Klasifikasi: Chypre Floral
Harga Counter Rp. 2.400.000,-

Eau du Soir is the second perfume by the house of Sisley and it is feminine, elegant and eternal. Its complex and rich composition is based on perfect harmony of contrasted lines: fresh citrus, sensual flowers, warm amber and musk. The bottle, with its golden stopper (made of 18 karat gold), was designed by Polish sculptor Branislaw Kryzstof. The top notes are mandarin orange, grapefruit, spruce and carnation. The heart consists of seringo, jasmine, rose and lily-of-the-valley. Musk, amber and patchouli are in the base. Countess Isabelle d?Ornano was given Eau de Soir as a gift by her husband, count Hubert d'Ornano in 1990. The count created a unique floral composition in the centre of which was Spanish flower seringa. Its fragrance, as in the case of many other types of white flowers, radiates an intense scent through night air and attracts night butterflies to pollinate it. The perfume was created to remind countess of her childhood in Spain. The name was chosen because of night flower seringe (in French, soir means evening). For several years Eau de Soir was countess' personal perfume and it was no sooner than 1999, after her friend persuaded her, that it was released for public.

Fragrance Notes
notes: Tuscan, Iris, Iris Ginger, Sandalwood, Amber, Patchouli, Syringa, Mandarin Orange, Musk, Oakmoss, Pepper, Juniper, Cloves, Lily-of-the-Valley, Egyptian, Jasmine.
Bank Central Asia
A/n. Andrie Bona V L Tobing
No Rek: 5660146956
Bank Mandiri
A/n. Andrie Bona V L Tobing
No Rek: 1260005552517
BANK BNI
A/n. Andrie Bona V L Tobing
No Rek: 0186553054
BANK BRI
A/n. Andrie Bona V L Tobing
No Rek: 200901001218505